Updated Hours & Other Stuff.
Hello,
We hope this email finds you well, and with your faculties intact.
It is our great pleasure to announce that our door is once again open,

Monday - Saturday (with reduced hours, from 10am-3pm.)
If you have work obligations during these hours, please call us to arrange a time to shop that suits you.

We have a 2 person capacity at the moment, and you must wear a well fitting mask.
Our fridge is stocked with cold water, if you need some refreshment whilst waiting for your turn to come in.

Please also continue to utilize our website to order online https://www.thewildandwooly.com/, or call us @ 843 881 5588.
We are also offering virtual shopping via Facetime. Call us to arrange.

You may opt for car side pick up, porch drop off, or USPS shipping.
Classes are still temporarily suspended at this time.
I don't know about you, but I'm ready for a vacation.
These popped up on my feed today. Made my heart, and feet, feel a little itchy...
Dubrovnik, with Claire, in 2017.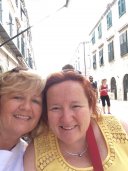 Our next Facebook Live Event is tomorrow (Monday, June 8th) @ 4pm.

BATIKS



We have a wide array of Batik fabrics on hand, and shall be featuring a great selection for sale during this event.
For those of you unfamiliar with our FB Live events...this is an opportunity for you to shop live, from the comfort of your couch :)
Click on the link at 4pm, and you will see us live, with all of our featured fabrics.
https://www.facebook.com/WIldandWoolyShop/posts/497454617638095
Each bolt will have a code attached to it.
There is a 1 yard minimum cut.
In the comment section, type the bolt code, and the purchase amount. e.g.

BAT15, 2 yards

Private message your phone number to us via FB messenger.
Once the live feed finishes, we will process all requests, in the order they were received.
We will then call you, and take payment over the phone.
Your order will be ready for pick up, or shipping, the following day.
Be sure to comment quickly if you love something, because it is 1st come, 1st served.
You can play back the video, and continue to place your orders via comments, up until 9pm the same evening.
We'll see you tomorrow :)


World Wide Knit in Public Day is Saturday, June 13th.

In lieu of us gathering for this event, we have decided to offer a lucky 13% discount on all yarn purchases on June 13th. Includes web, phone, and in store purchases.
If ordering on our website, use the discount code
KIP
when checking out!



Quilters Trek (was Row by Row) is kicking off on June 21st...
This year is exciting, because you do not have to "trek" around all the stores, you can actually order online!
The theme is "True Blue."
Here is our block, designed and written by the fabulous Kim McPeake, using the "Ocean Waves" pattern.
It is a 4 block pattern, each measuring 9" x 9", which allows for many design layouts. One of my favorites is our interpretation of the Ravenel Bridge...
Frankly, you can arrange the design however you wish, even separating the 4 blocks. The options are endless.
Check out the link for full Quilters Trek information:
https://www.facebook.com/QuiltersTrekChurnDashExplorers/?__tn__=kC-R&eid=ARAs9mprnXa8JO9WSr7yrtQGmgBbgpwrUvijF4NSCpkNBLAcPkBtBYLOD4GDRLXUJDNtl5XTGJDvxSFc&hc_ref=ARRGNPISc1h_NpGMFIL2vnt3IKHO0MysgYuXFqKeK-76Ig21cPfqhVgUJ63GlQ9-tqA&fref=nf
Alice is our shining star of the month!
Please click on the link to see her in all her glory, sharing her extensive skills on English Paper Piecing.
https://www.youtube.com/watch?v=V3Av7fxlMaY&t=11s


Pam's Charleston Basket & Pincushion kits are back in stock!
As are the Charleston Collection Fabrics!!
Plus, a very happy birthday to Pam next week x


A little bird told me that Corinne is coming back to the store next week :)
We've been madly trying to tidy up the yarn room, and adding to our supply, before she returns :)
Robin Pickens "Picket" (Abbey Rose) and "Beanstalk" (Gypsy Soul) kits are available.
Batik "Rail Fence on Point" kits are also available.
This kit will be featured on our Batik FB live event!


Escape to exotic Marrakesh, designed by BARI J. for Art Gallery Fabrics.


And, of course, Autumn is Calling...


It has been pretty sweet to see you drifting back into the store this week.
We look forward to many more days, weeks, months, and years of your visits.
Here's to you, and yours,
from all of us at Wild and Wooly x